ASHAR's Early Childhood Program is a place where children feel welcome, loved and safe. Our goal is to create a nurturing and exciting atmosphere where children will look forward to coming to school every morning. We strive to incorporate Torah and Mitzvot into every part of our curriculum, which truly makes our lessons more meaningful and instills in our children love and pride of being part of Klal Yisrael.
ASHAR's Early Childhood Objectives:
Teach all subject matter in a hands-on, fun and developmentally appropriate fashion
Apply an integrated approach in teaching all units and themes

Use multi-sensory and differentiated instruction to help all children lear

n
SPECIAL PROGRAMS IN EARLY CHILDHOOD:
Chalav U'Dvash (Hebrew Immersion Program):


Chalav U'Dvash is our Hebrew language instruction program for our Early Childhood children. The program was created for children ages three to six, who are taking their first steps in Hebrew. The program includes books, games, songs, picture cards, the program puppet (Bentzi) and more. Our children enjoy 30 minute Hebrew sessions three times a week when our Hebrew speaking Israeli teacher converses with the children completely in Hebrew.
Rosh Chodesh Assemblies and Mitzvah of the Month:

Our Early Childhood Mitzvah program begins with a Rosh Chodesh assembly. Every month the entire Early Childhood family joins together to celebrate Rosh Chodesh. We honor the children who have birthdays in that Hebrew month. We also sing songs and introduce the new monthly Mitzvah, brought to us by our very own Mitzvah Man. All Mitzvot are age appropriate and easily grasped and followed by our children on a daily basis. During weekly visits, Morah Jackie and Mitzvah Man visit each of the classes to reinforce the Mitzvah or Middah.
Handwriting Without Tears: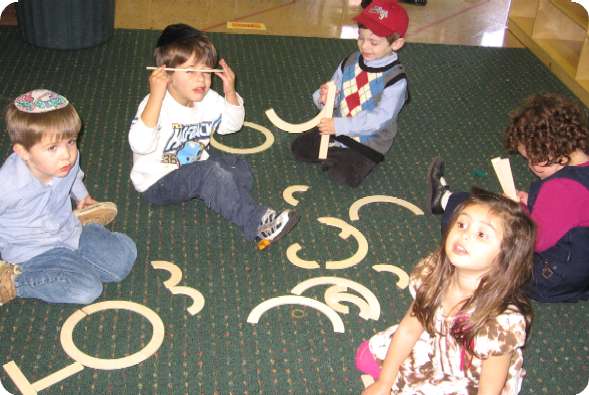 The Handwriting Without Tears program consists of a developmentally based multi-sensory method of teaching which makes handwriting fun and easy to learn. Once handwriting becomes an automatic and natural skill, children are able to write with ease, which in turn helps them succeed and thrive in school. All three grade levels participate in this program.
Music and Movement with "Morah Malky":

Music and Movement is our developmentally appropriate gym program. Through creative gym routines, Morah Malky Lehmann has customized this gym program to aid the children's physical growth at each of our grade levels. The program helps our children develop and strengthen both gross and fine motor skills as well as strengthen their different muscle groups.
Music with Mr. Nulman:
We are delighted to have Mr. David Nulman leading our Music program which includes songs for all the Yamim Tovim, Parshiot, holidays and class performances. Mr. Nulman, captivates our children with fun and interactive songs. Along with instruments our children learn all about music, rhythm and tempo.
Waterford Reading, Math and Science Computer Program (Pre-K and Kindergarten):

The program focuses on reading, math and science, and targets each child at their own level. The computers keep a record of each child's strengths and weaknesses and creates a comprehensive program geared specifically for each child's needs.
Social Skills Curriculum:

Our Social Skills curriculum was developed specifically geared to children within an Early Childhood setting. Through puppets, modeling, practicing, and positive reinforcement we promote a healthy social environment for our children.
For more information, about our Early Childhood Program please contact Mrs. Jacqueline Borgen, Principal of Early Childhood and First Grade at 845-357-1515 Ext. 503.
Mon, October 2 2023 17 Tishrei 5784